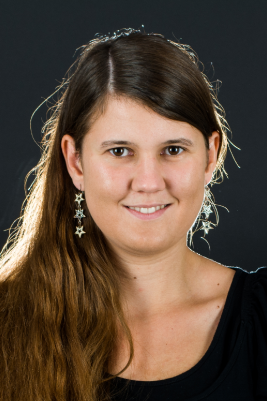 Virág Erzsébet Szűcs
Electrical engineer, MSc.
Embedded Software Developer
/Commsignia Ltd./
Studies: Budapest University of Technology and Economics, Faculty of Electrical Engineering, MSc, University of Bologna (Erasmus), + Vörösmarty Mihály High School, Érd
City: Budapest
Date of Birth: 1996
Professional interests: Embedded systems, Internet of Things, V2X
Hobbies: camping, "Bear Maths", skiing, crochet
"It is the responsibility of scientists, certainly when they speak to the general public, to speak as clearly as possible."
- Yuval Noah Harari
I have been studying to be an engineer since I took my first physics class in primary school. Not because I was doing so well, but because I felt interested and challenged. I was first going to be an architect, I chose electrical engineering in high school, and then at university I realised that I wanted to go into software engineering.
I think it's very important to learn about many different subjects, jobs and hobbies and choose what suits you best. Find the activities you like and spend your time on them.